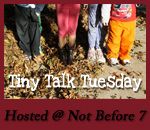 Tiny Talk Tuesday helps parents focus on one of the many joys of parenting - the funny things that our little ones (and sometimes big ones) have to say.

Join in the fun and record the Tiny Talk overheard in your house! Publish a post on your blog and link us to the laughs. Then be sure to link to the blog carnival on this post so more bloggers can join in the fun.

The guidelines can be found here if you need them.
____________________________________________

We were reading about the buried city of Pompeii when K (age 8) randomly announced, "If I had a girl and she was wild, I would name her Vesuvius."
_____________________________________________

D (age 3): This cat is my pet. He loves to be kicked. (Then he drop kicked his stuffed cat) Yep, he loved it!
_____________________________________________

K: That is so silly
Daddy: What is that?
K: Why do these people want to create more air doesn't the earth have enough air?
Daddy: Huh?
K: Holds up picture of wind turbines used for electricity generation... "See, look, why do we need these? We already have enough air, we don't need to make any more"
______________________________________________

D randomly announces things to us. The other day he told his Grandma...Tea parties are cool. Tea parties are very cool. But we are not having one today.

(wondering if he has ever had one...?)
______________________________________________

D (age 3): Electricity is the power that goes into the light that makes it clogged.

(glad he clarified that)
______________________________________________

Tiny Talk Feature Family

(If you would like to be a featured family, I'd love a chance to get to know you better. Please drop me an email!)

This week I'd like to introduce you to Karen from The Pink Parsonage. Karen is not someone that I know well in person or through blogging, but I have been getting to know her through Tiny Talk posts.

Her girls are absolutely adorable and she is an amateur photographer like myself. I love the railroad idea for her fall portraits! She clearly knows how to use editing software well and the photos look great.

I have learned that she doesn't mind moving. THIS blows my mind. I have only moved from an apartment to a townhouse and then to a single family. I hated every minute of moving. I am no good at decorating, so I hope to get more tips from her as she begins to decorate her new home!

If you missed her Tiny Talk video last week, here is her little cutie tickling herself. Loved that! So sweet.

Now, a little about Karen directly from Karen...

Tell us about yourself and your family. Be sure to include your own hobbies and interests as well as information about your kids and hubby.

Married 14 years to a pastor (though he has only been a pastor for the last 5 of those years.) We have found ministry to be challenging and rewarding at the same time. Bottom line is this, when God asks you to do something, he also gives you a desire to do it, and we LOVE it! My husband Rick, also works for Loomis Armored. We met through writing letters...the real old fashioned kind that included pen, paper and a postage stamp. We have 4 beautiful daughters ages 12, 8, 4 and 18 months. This is my 7th year homeschooling, so I think we qualify as an official "home-school family". I love cooking, decorating, crafts and photography. Most of my family knows me as the one who takes too many pictures, but I don't think that is even possible. I hate sewing, but with 4 girls, I often find myself sitting at the machine to create the perfect outfit that we just couldn't find anywhere else. As a family, camping tops our list of summer activities and daddy loves to hunt!

Tell us about your blog. What do you tend to write about? What are some of your favorite posts/topics?

I am very literally a STAY at HOME mom....I mean, I really rarely go out. I find plenty to do here and even dread those weekly shopping excursions. For me, my blog is therapeutic and ever so relaxing. I find myself stuck between two classes of blogs: the decorator type and the mom only type. Being a mom is indeed the most important job I have, but I find that a part of that job includes decorating our little home-sweet-home and making it a comfy, cozy place to be. You will find posts about my children, crafts, recipes, and even an occasional book report or thoughts from my heart.

What is one thing about you that we might not find on your blog?

This was a tough one...but, you will not find any complaints on my blog. We have been abundantly blessed and As for me and my house, we will serve the Lord.

__________________________________________________
Your Turn: