Have I ever mentioned that I LOVE DC? Oh yeah,
I have
. Well, let me say it again...I LOVE DC!
This weekend, we took the girls to Washington DC for the
National Book Fair
. The weather was so perfect and we had a great time. This was our first trip to the National Book Fair, so we had no idea what it would be like. Let me tell you, it was GREAT! It took up 7 blocks of the National Mall with tons of activity. We headed straight to the PBS kids section so we could meet our favorite characters.
There were activities for the kids.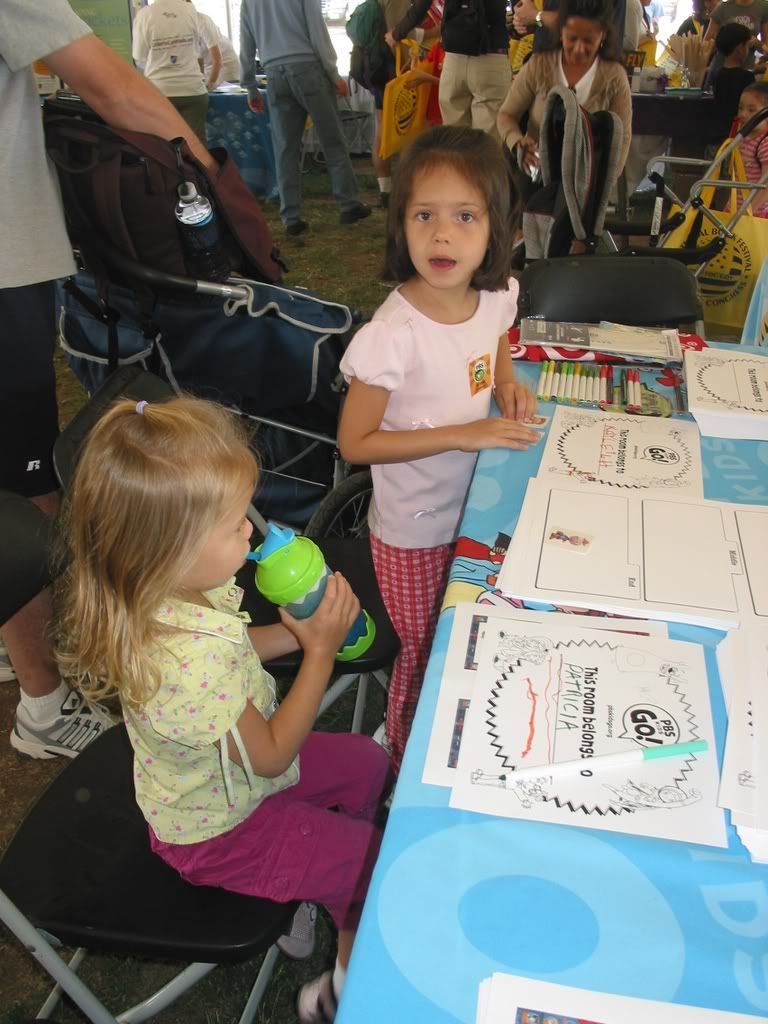 There were fun games with prizes.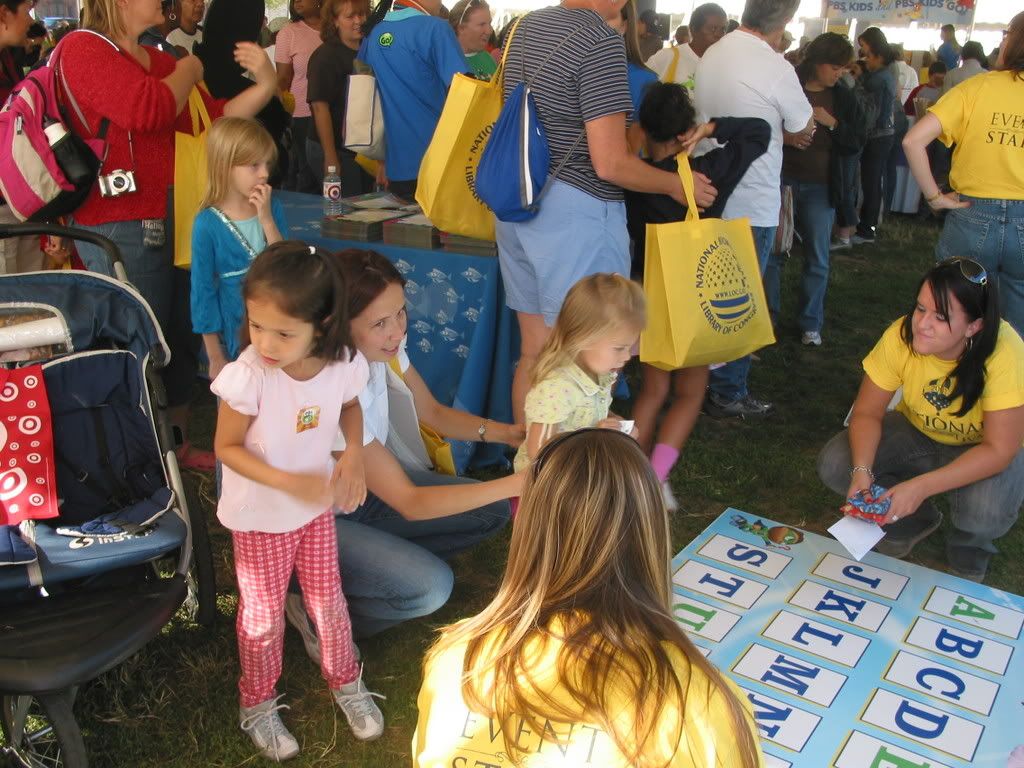 And of course, there were our favorite characters. You waited in fairly short lines to get a picture with the character. The great thing was that they took a Polaroid shot and put it in a little frame book for the kid. So we have keepsake Polaroids of the girls with Curious George, Wyatt, Princess Pea, Cassie the dragon, and Brother Bear.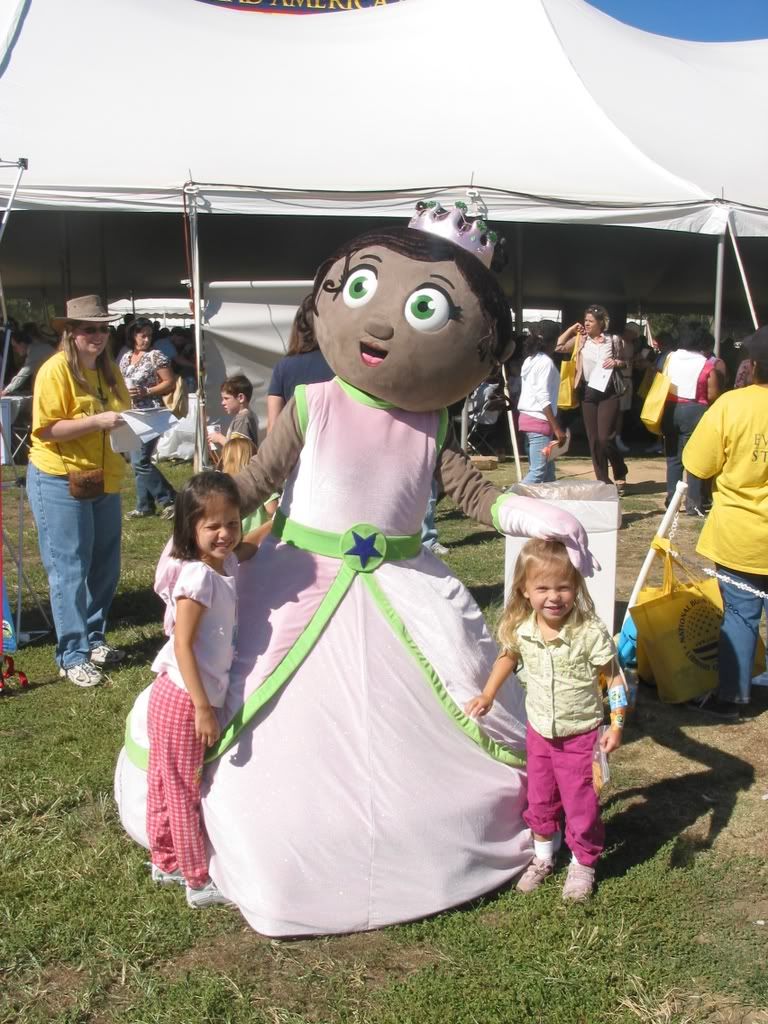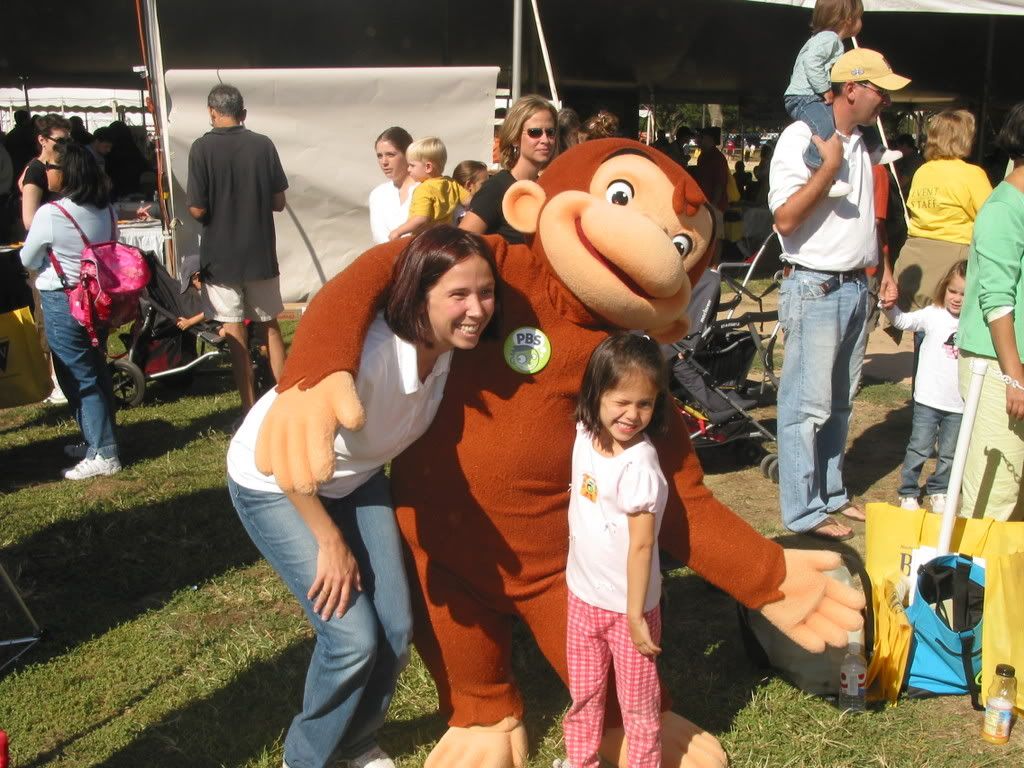 Now...you CANT go to an event in DC without seeing someone protesting something! Yes, that sign says, "Books not Bombs".
After about 2 hours, we left the Fair and headed to a few monuments. We walked past the Washington Monument. (Didn't I tell you the day was perfect? Just look at that sky!)
Eric and I wanted to see the
WWII Memorial
because we had only seen it from the car. It was so well done. The best part was that we happened to get there as a group of veterans were being dropped off. There was about 30 WWII veterans there with their families. Watching them take such pleasure in the memorial, taking pictures with their sons and grandsons, seeing their reactions and faces was my favorite part of the day. It was truly great to be there at the same time as they were. We had K take our picture at the fountains in the center.
There are 4000 stars on the back wall. They represent over 400,000 men who died while serving our country in the war. It is an amazing image.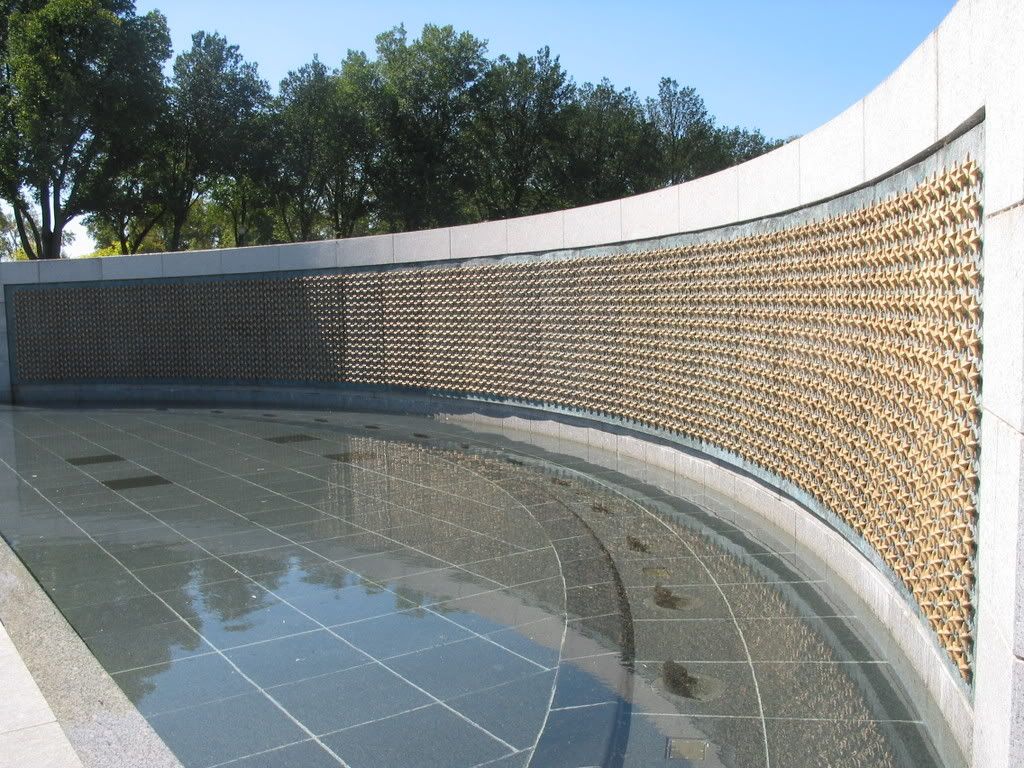 Our next stop was the
Vietnam Veterans War Memorial
. This wall is unspeakably remarkable. Listed on the wall are the names of EVERY man who died in the war while serving the United States. They are listed in chronological order of their death date. The memorial wall evokes such emotion as you walk along it. It is a quiet place. As soon as you begin to walk, there is a hushed silence that overtakes everyone as they remember these men.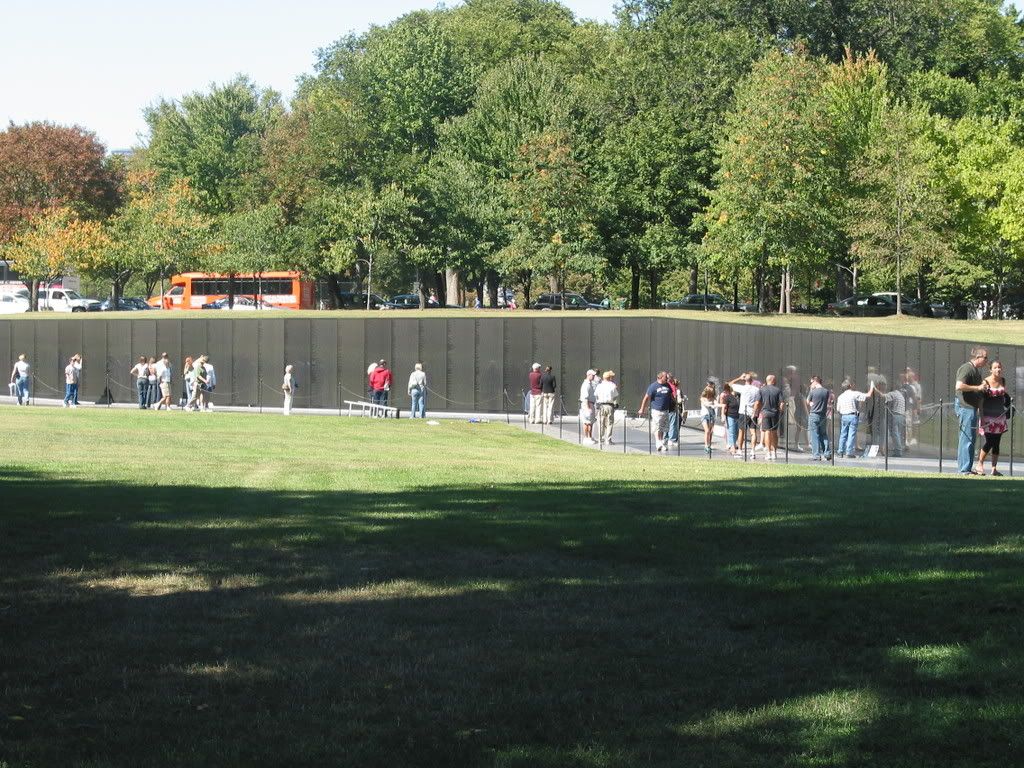 We were there to visit one particular name.
Jennifer's
father died while serving in the Vietnam War. She has mentioned him before on her blog. Please take a moment to
read her story about him
. We went that day to take some pictures of his name for her. It was such a reminder that EVERY name on that wall is somebody's son. It is quite possibly somebody's husband, father, or grandfather. (as it is in Jennifer's case) It was a honor to see his name and to remember the sacrifice he made.
Captain David P. Gibson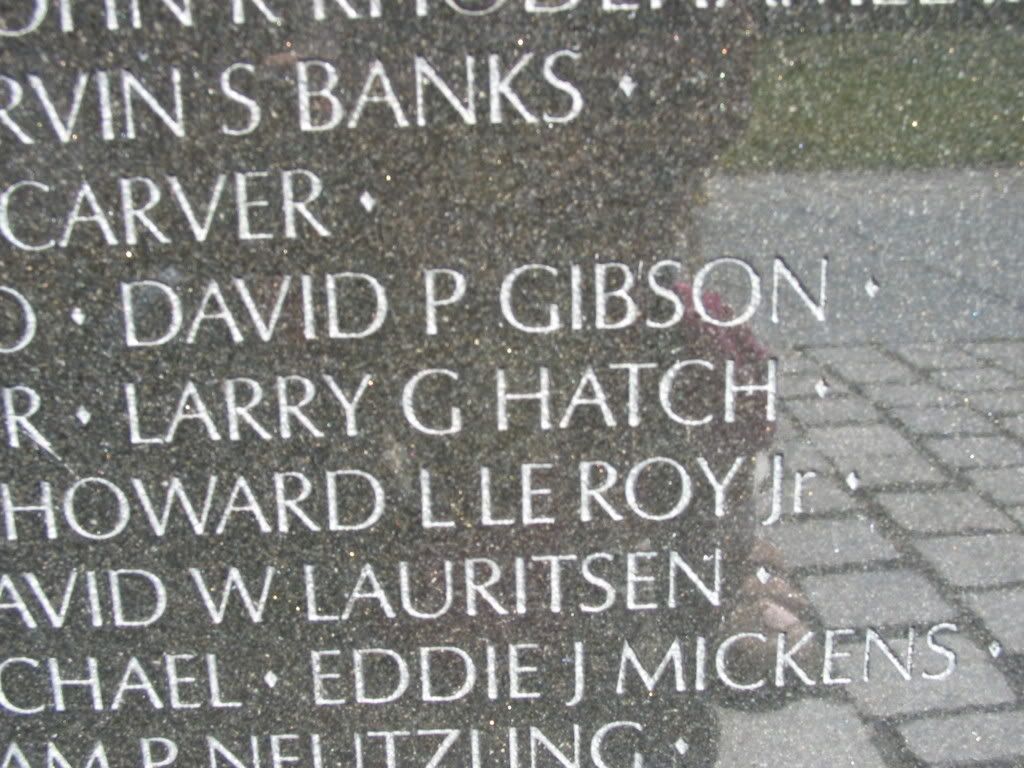 Then, we headed home on the Metro. I think the Metro ride is a favorite part of the journey for the girls!